Acronimo per Fiber To The Building – fibra fino all'edificio – la sigla FTTB indica un tipo di connessione che sfrutta:
i cavi della fibra ottica, come quelli utilizzati nella più veloce FTTH;
i cavi in rame della tradizionale rete telefonica.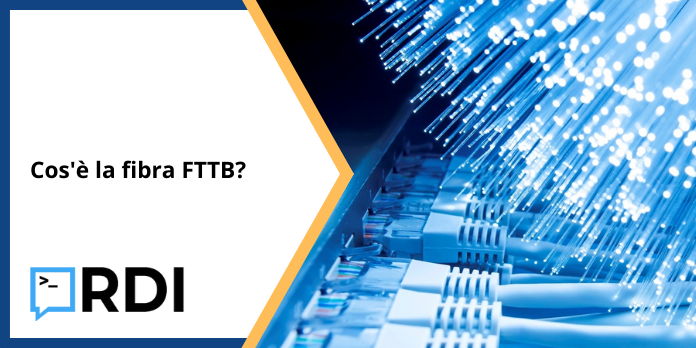 Durante i lavori per la posa della rete in fibra ottica, i primi si fanno arrivare non al cabinet (fibra FTTC) né a ciascun singolo appartamento (fibra FTTH).
Al contrario, si fermano in una centralina condominiale, a partire dalla quale il segnale viaggerà poi sui classici cavi in rame.
Questa scelta porta alcuni vantaggi e pochissimi svantaggi:
da una parte, si riduce quasi del tutto il rischio di perdite e interferenze del segnale, per cui la velocità del collegamento non si abbasserà di tantissimo;
dall'altra parte, non arrivi comunque alla massima velocità teorica della tecnologia di connessione su fibra ottica.
A differenza di altre tecnologie come la FTTC e la FTTE, infatti, la distanza dalla centralina non influirà più di tanto sulle prestazioni della tua connessione.
Allo stesso tempo, non saranno necessari lavori che vadano a deturpare la struttura in cui abiti o creare fastidiosi cantieri in house. 😉
Stai pensando di dotarti di una connessione fibra FTTB?
Se vuoi capire quale router utilizzare oltre al modem fornito dal tuo ISP, dai un'occhiata alla lista dei migliori router per fibra! 😉